×
Set your delivery date
---
Max order value £500.00
×
Already have an account? log in
to see your addresses.
Loading Delivery Dates
Please wait while we load delivery dates for your selected address.
---
×
Welcome
to the home of locally sourced meat from the farmer to your door.
---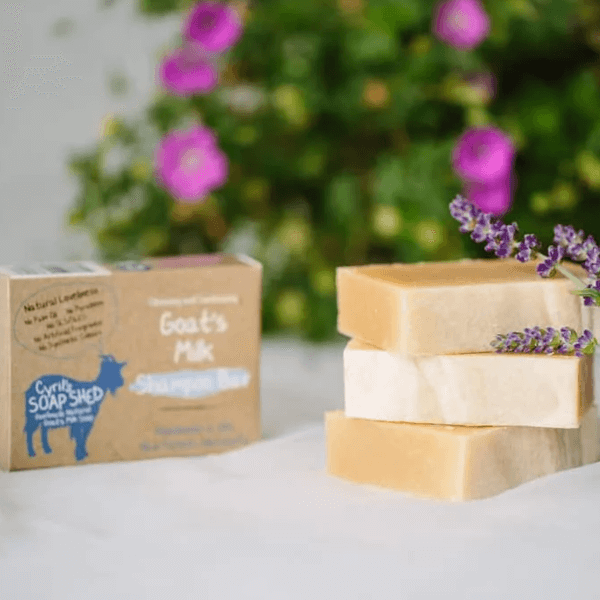 Goats Milk Shampoo Bar
We have combined some amazing hair loving oils, along with our goats milk to create our solid shampoo bar. It is 100% natural, and leaves hair feeling cleansed and conditioned. Subtly fragranced with Lavender, Rosemary and Geranium Essential Oils.
From £6.12 VAT inclusive
Pick Size
---
Bar (90g) - £6.12
7 items left in stock
---
---
If you love this, then you will also love these
---
Ingredients

Allergen:
Sodium Cocoate (Coconut Oil), Sodium Olivate (Olive Oil), Sodium Wheatgermate (Wheatgerm Oil), Sodium Castorate (Castor Oil), Sodium Jojobate (Jojoba Oil), Sodium Cocoabutterate (Cocoa Butter), Lavandula Angustifolia (Lavender Essential Oil), Pelargonium Graveolens (Geranium Essential Oil), Rosmarinus Officinalis (Rosemary Essential Oil) Citral*, Citronellol*, Geraniol*, Limonene*, Linalool* * Naturally Occurring in Essential Oils
Product Description
Switching to a natural shampoo bar is probably the best thing you can do for your hair and the environment, but it can take time to adjust! This can take anything from a couple of days to a few weeks, depending on hair length and how much chemical residue there is from your old shampoo. As detergent shampoo strips away the natural oils that protect your hair, your scalp produces more oil to compensate. As you change to a natural shampoo bar, your scalp needs time to rebalance oil production. It needs to realise that you are not taking the oils out, and it doesn't need to produce more! During this period, hair may feel extra greasy or heavy. Make sure you rinse extra thoroughly after shampooing. You may find using an Apple Cider Vinegar rinse, or mixing a tsp of baking soda in a little warm water and rinsing helps with the build up of oils during the transition period. The secret to success with a natural shampoo bar is to not give up straight away! We use some amazing oils, and of course goats milk in our shampoo bars to really help nourish your hair, and not strip out the good stuff. Goats milk, packed full of vitamins and minerals, which can help repair damaged hair and leave it soft and manageable. Good for dry and sensitive scalps and helps stop any itchiness .
Cyrils Soap Shed
Our goats milk soaps are made with natural oils and butters using the ancient and traditional col...
Learn more
Most popular
Some of this weeks most popular products
Supporting local brands
We champion local and love working with producers from across Hampshire, the southdouths and Isle of Wight.
---